[...]
CURRICULAR ACTIVITIES
CURRICULAR ACTIVITIES
Studying the Degree in Primary Education within the Bilingual Group entails acquiring the experience of learning, in a range of different academic disciplines, through the English language. All of the students in the Bilingual Group acquire the qualification for teaching English as a Foreign Language, called the English Mention. The courses that form the English Mention itinerary offer many opportunities to participate in diverse educational experiences and innovative projects, more information on which is shown on the web-pages at this link.
Teachers of courses for the Bilingual Group at the UCM Faculty of Education strive to engage in educational innovation projects, through which they enrich the learning and the university experience of the students. Many of these projects focus on the interaction between enhancing communicative competence in English and Spanish, and developing teaching skills for the different areas of the primary curriculum, as well as cross-curricular components and key competences.
Below we present some information about current and previous educational innovation projects and a variety of other curricular activities in which the Bilingual Group students and teachers are involved.
INITIAL TEACHER EDUCATION FOR CONTENT AND LANGUAGE INTEGRATED LEARNING (CLIL): INTERDISCIPLINARY INNOVATION
A team of professors, coordinated by Dr María Dolores Pérez Murillo, who work in a range of specialisations and research areas, have developed a series of teaching innovation projects over the past years, which can be learnt about by opening this link.
FORUM ON MULTILINGUALISM PROJECTS
The research group known as ForMuLE, Forum for Multilingualism and Literacy Education, coordinated by Dr Isabel García Parejo, develops teaching innovation and Service Learning projects in which the Bilingual Group students are involved. These projects, coordinated by Dr Isabel García Parejo and Dr Aoife Ahern, focus on developing bi-literacy (English and Spanish) and language teaching competence in student teachers, including Service Learning through which our students work together in groups to support children, applying an innovative and evidence-based approach to teach literacy in the two languages; more information here.
SCIENCE EDUCATION FOR THE BILINGUAL GROUP
Professors in the Experimental Science Unit of the Faculty of Education also regularly develop, and involve the Bilingual Group students in, learning about the integration of language teaching and learning with Science, Technology, Engineering and Mathematics. Information available here.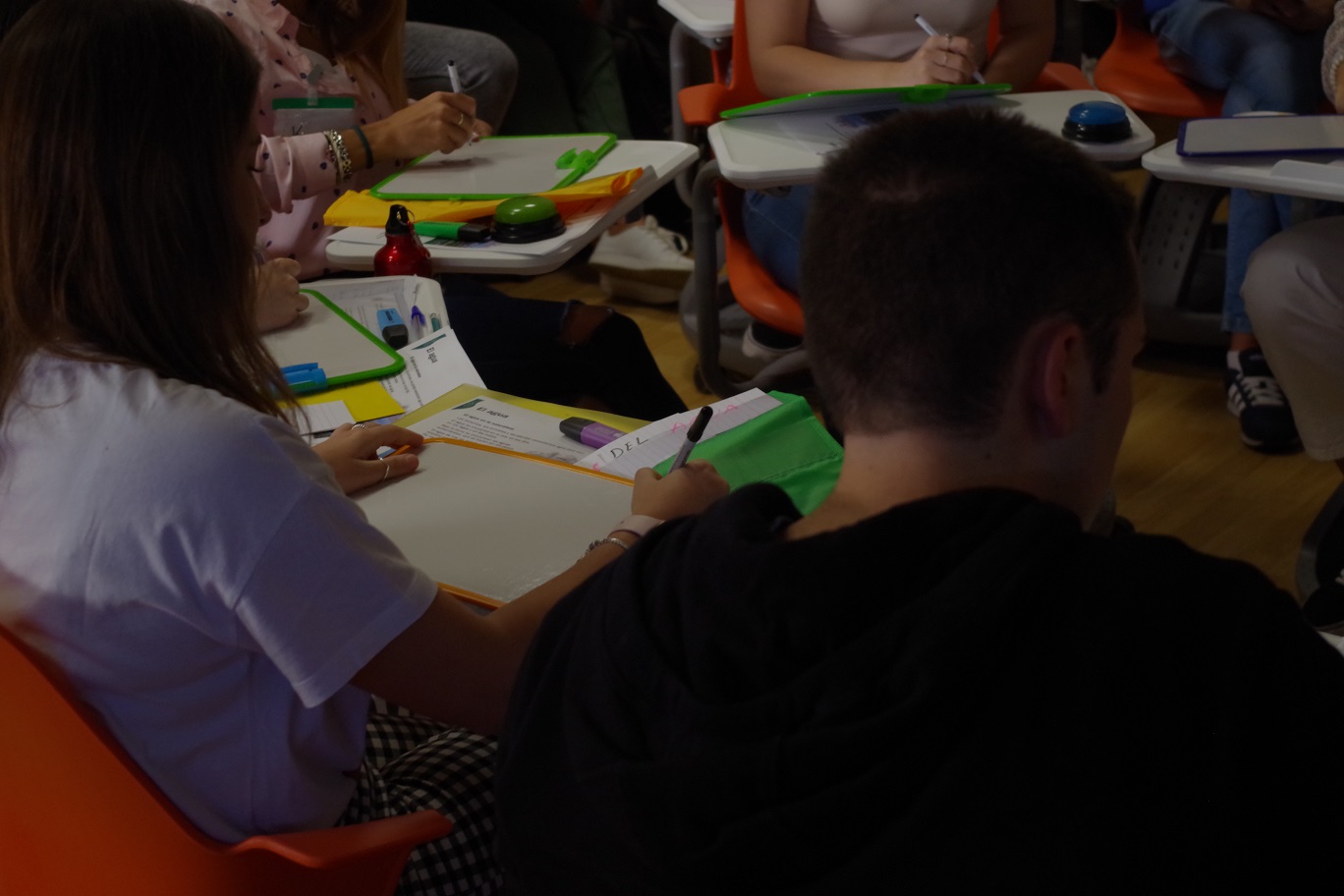 Service Learning for bilingual literacy